Read below to find out how CSUK:ReviseCS can help you ace your Computer Science GCSE!
Once you've selected your desired OCR, AQA, Edexcel or Eduqas course, you'll be granted access to a vast array of cutting-edge learning materials. These meticulously crafted resources have been designed with pinpoint accuracy, to guarantee comprehensive coverage of each specification point.
Behold the awe-inspiring 'Learn It!' pages, which offer a treasure trove of diverse learning tools, including immersive written theory notes, mind-blowing interactive presentations, riveting learning videos, and dynamic printable notes pages. These captivating resources cater to all your learning needs, ensuring you have access to immersive and in-depth content in a variety of formats.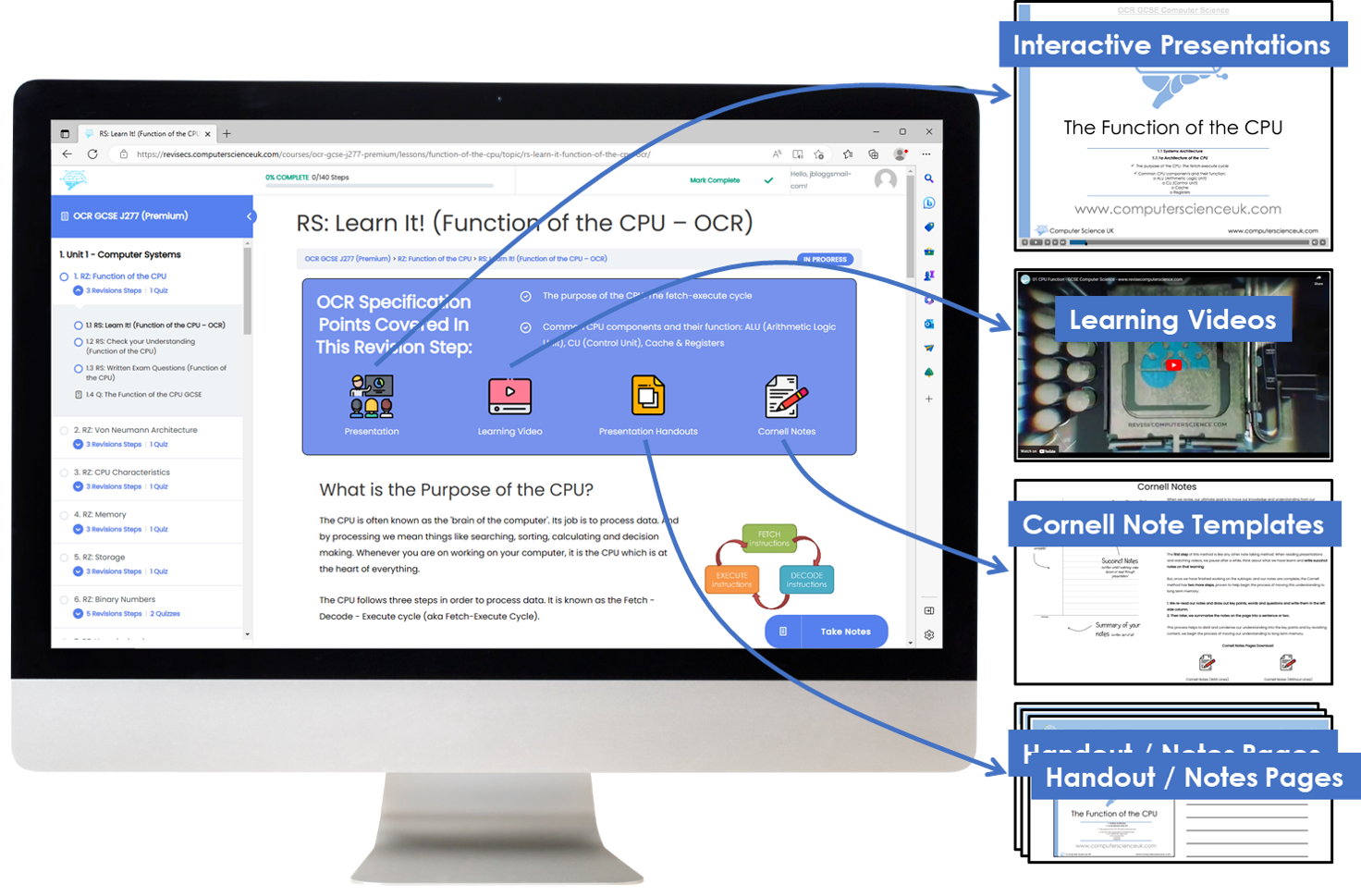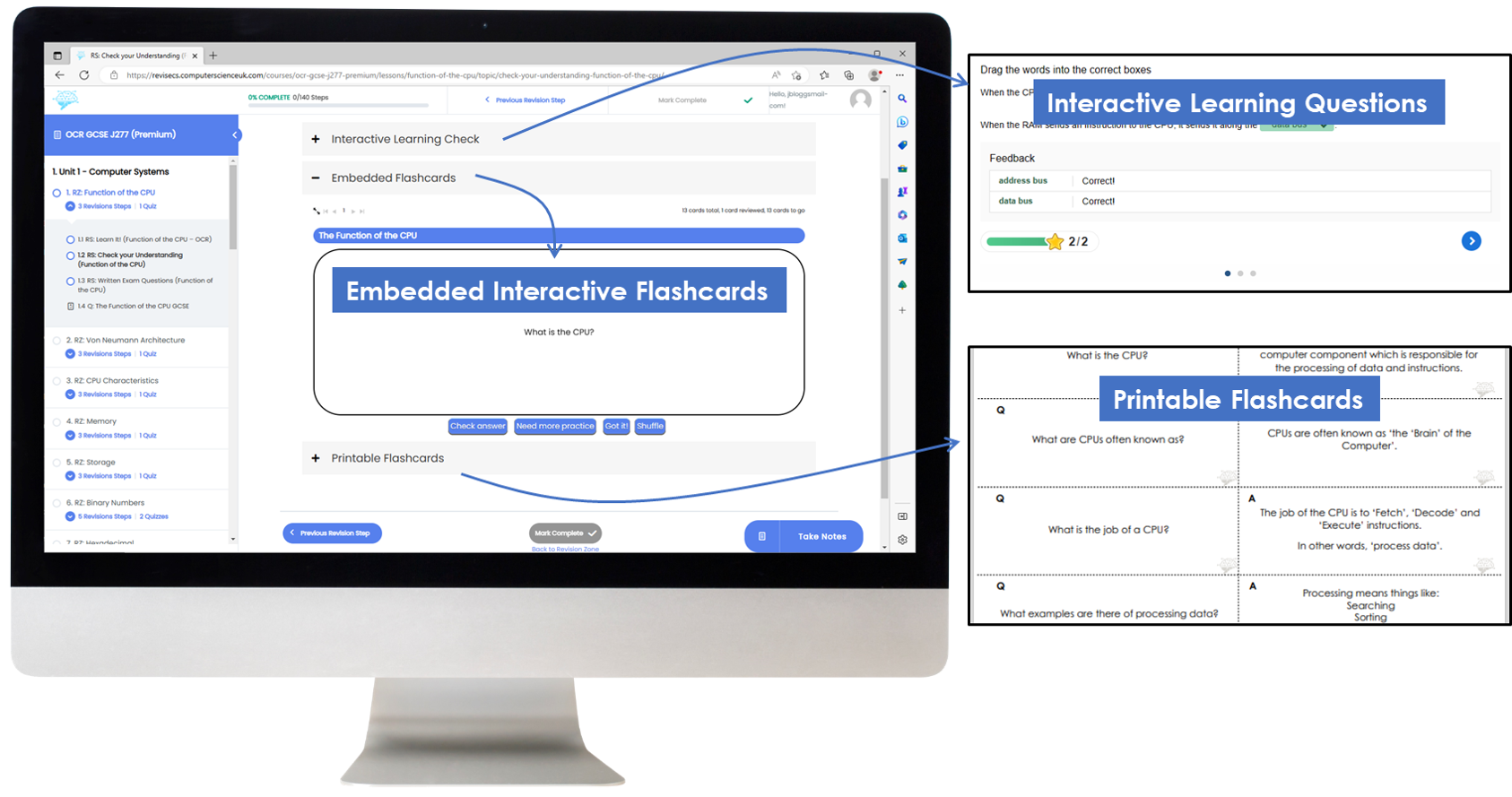 Now, once you've delved into the theory materials, the real test begins. It's not until you've put your newfound knowledge to the test that you can truly claim to have mastered the subject.
Enter the game-changing 'Review It!' pages, which provide an arsenal of interactive learning check exercises, along with awe-inspiring embedded and printable flashcards. This dynamic combination enables you to test your understanding, identify gaps in your knowledge, and take your mastery of the subject to the next level. Prepare to conquer the subject like never before!
Learning checks are great, but if you want to ace your exams and truly demonstrate your expertise, you need to put your skills to the test. That's where the 'Assess It!' pages come in, and let me tell you, they are absolute game-changers.
Here, you'll discover a mother-load of written exam questions. But what sets these pages apart is the ground-breaking self-guided marking system. Once you've attempted a question, a revolutionary mark scheme system will reveal itself, allowing you to indicate whether your answer included all the necessary points. After submitting your answer, you'll receive a score, and you can retake the questions as many times as you like until you've mastered the subject. It's exam practice, elevated to an entirely new level!
Are you ready to take your learning to the next level? Then you won't want to miss the revolutionary 'Quick Quizzes' from CSUK:ReviseCS. These quizzes are designed to enhance your retrieval practice, reinforcing your learning pathways and deepening your knowledge, leading to truly outstanding exam answers.
What sets these multiple-choice quizzes apart is their unparalleled level of detail. For each answer you provide, you'll receive instant feedback, including a comprehensive explanation of the correct answer and why it's the right choice. Say goodbye to misconceptions and hello to that elusive grade 9! These quick quizzes are a game-changer in exam preparation.
In addition to a wealth of learning materials, you'll also gain access to a host of invaluable resources, including your very own dashboard.
Here, you'll receive real-time insights into your performance across the various topic areas of the GCSE, presented in easy-to-read graphs and charts. These revolutionary features provide a detailed overview of your strengths and areas for improvement, allowing you to focus your efforts on mastering the subjects that matter most.
This innovative and informative area of the site is the ultimate tool for success, helping to steer you towards greatness and empowering you to achieve your full potential. With our dashboard, the sky's the limit!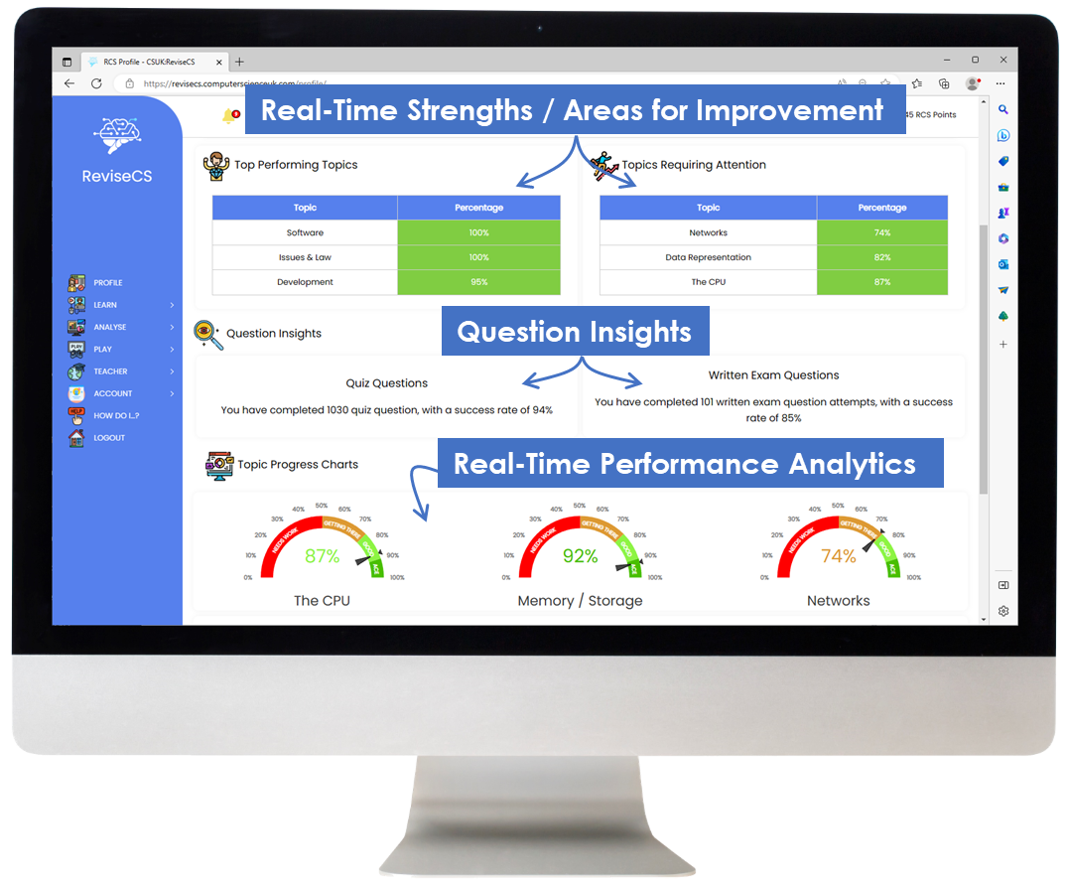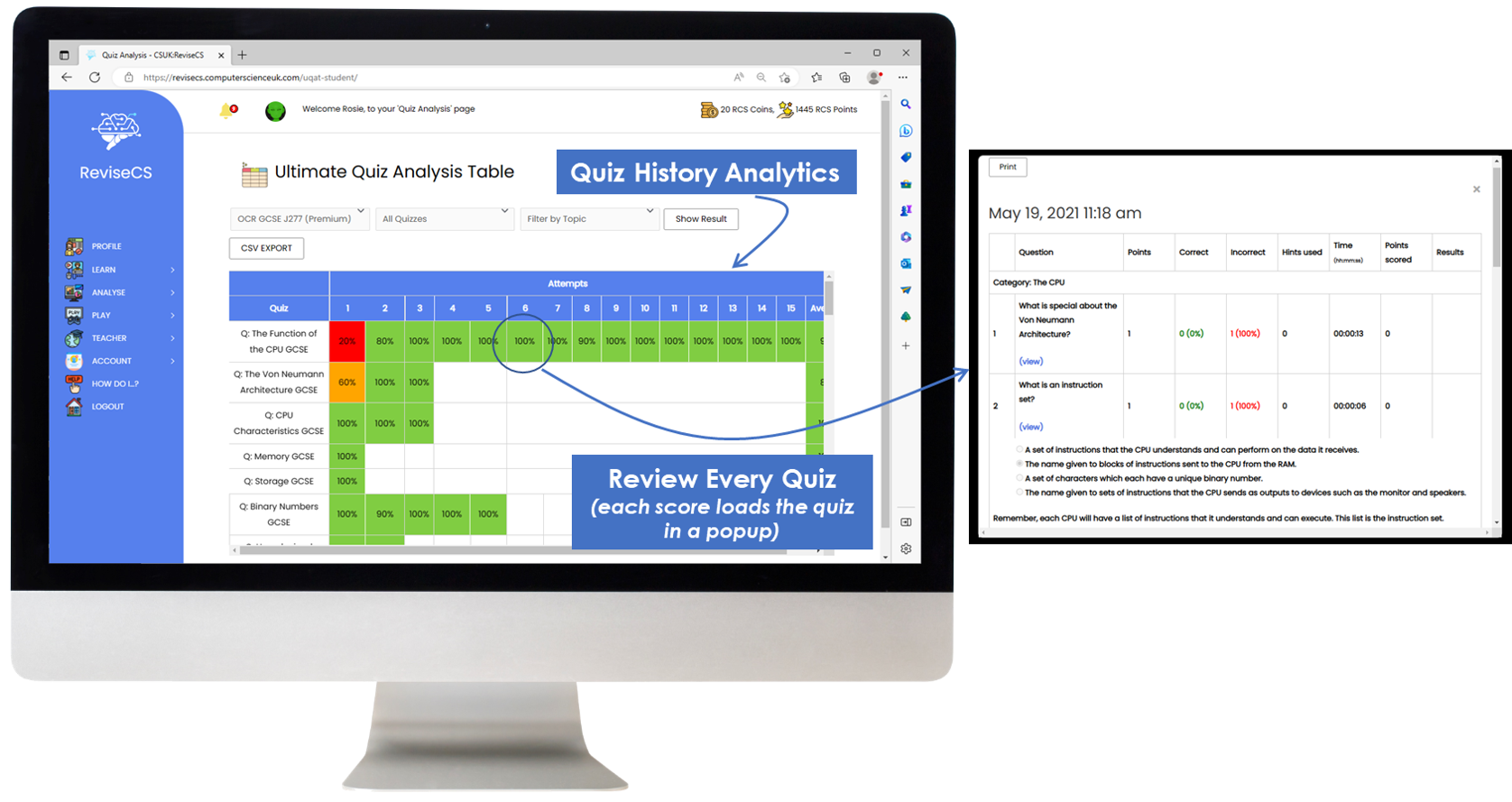 Get ready to take your quiz-reviewing skills to the next level with our revolutionary 'Ultimate Quiz Analysis Table.' This trailblazing feature stores every quiz attempt you make and presents it to you in an easy-to-read format, complete with RAG-rated percentage scores.
But that's not all. Clicking on each score will load the quiz attempt, allowing you to review your answers and identify areas of strength and weakness. This cutting-edge feature helps you to learn from your mistakes, build your knowledge and understanding, and ultimately achieve your goals.
Rev up your exam game with the "Exam Question Progress Tracker Table"! This tool is a total game-changer for students looking to dominate their exams. It keeps track of your performance on every question attempted and gives you RAG ratings to show your progress. And, with just one click, you can review your previous attempts and pinpoint your strengths and areas for improvement. Get ready to level up your exam game and crush those tests like a boss!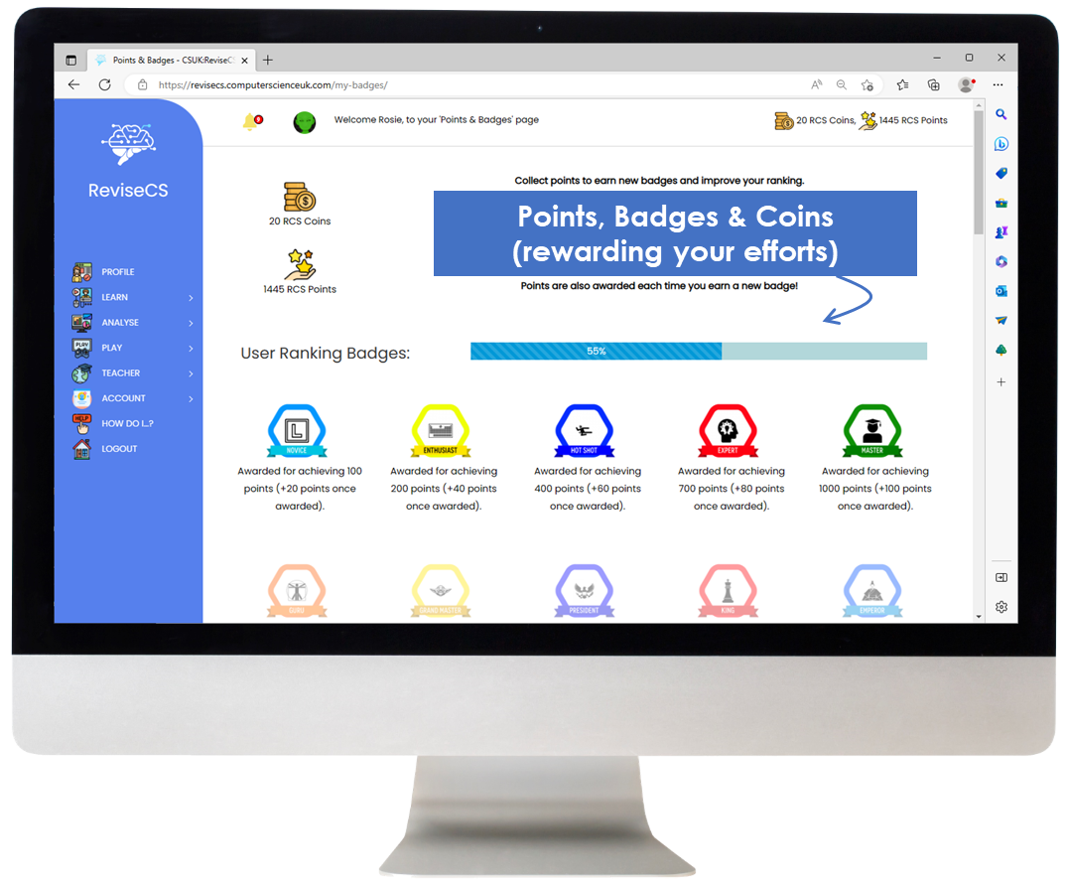 Buckle up, computer science students, because we're about to make studying way more fun! Let's be real, learning CS and gearing up for exams can be a real drag. That's why we've got the ultimate motivation tool: CSUK:ReviseCS's gamification system.
This system rewards you for your hard work with points, badges, and coins, so you can compete with your friends and level up your skills.
It's like having your very own personal cheerleader cheering you on to greatness! Get ready to crush your CS goals and have a blast doing it with CSUK:ReviseCS!
Hold on tight, folks, because things are about to get even more exciting! Points and badges are pretty cool, but have you heard about the virtual shop on CSUK:ReviseCS?
This bad boy lets you exchange your hard-earned coins for virtual equipment to build your own gaming PC!
It's all in good fun, but let's be real, who doesn't love a little friendly competition? Take on your classmates and see who can build their virtual gaming PC first, and earn bragging rights for the whole year! It's time to level up your CS game and show everyone who's boss. Get ready to earn those coins and build the ultimate virtual gaming PC with CSUK:ReviseCS!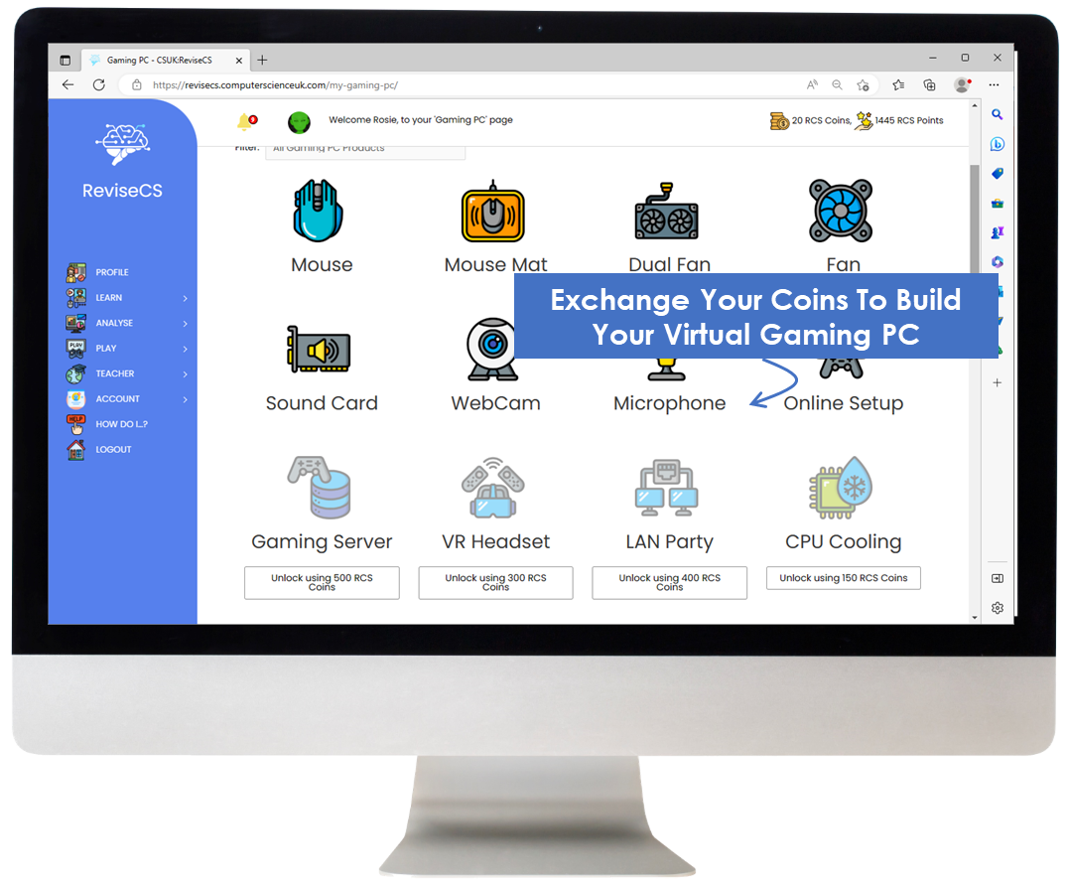 Harness the Power of AI - Introducing the aiAnna QuizBot!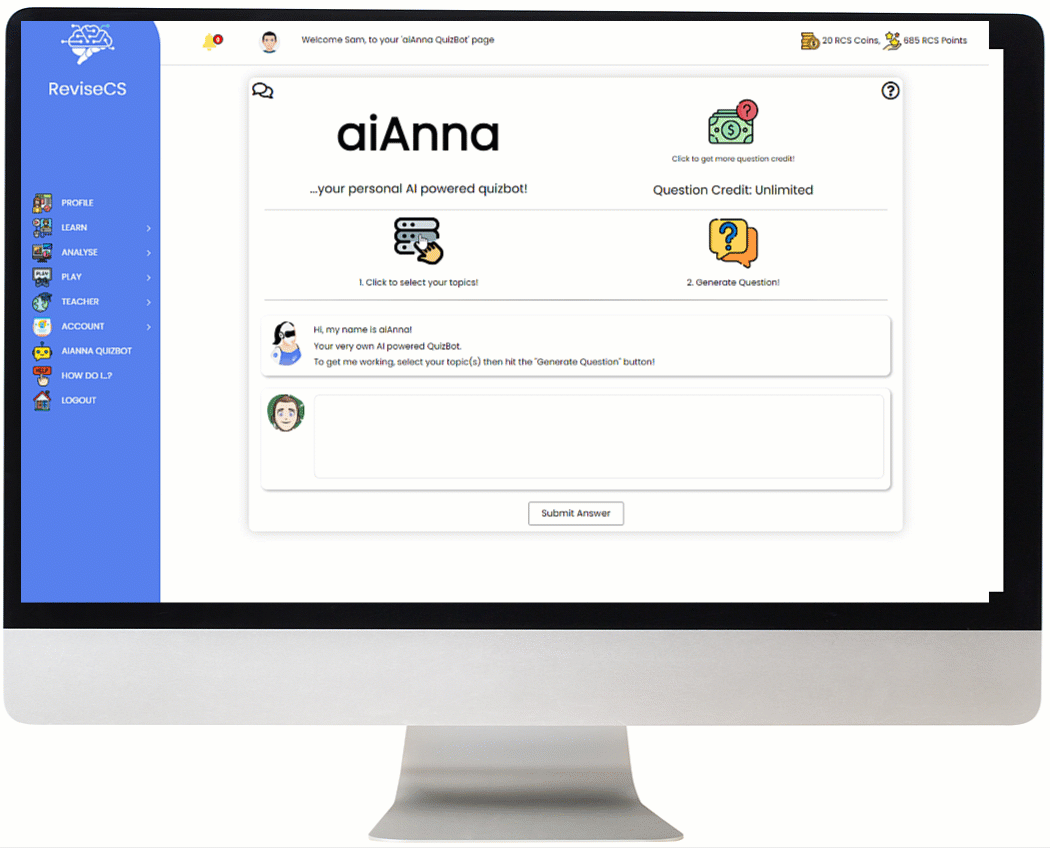 Introducing the aiAnna QuizBot - the ultimate tool for students who want to test their knowledge and improve their skills. With the ability to dynamically generate questions, the QuizBot provides endless practice opportunities for learners of all levels. What's more, Anna's advanced AI capabilities allow the QuizBot to provide immediate feedback on each question, giving students a comprehensive understanding of their strengths and weaknesses.
Whether you're studying for an exam or just trying to improve your knowledge, the QuizBot is an invaluable resource that will help you achieve your goals. With aiAnna on your side, you can feel confident that you're getting the practice you need to succeed. Sign up and try the aiAnna QuizBot today and experience the power of AI-driven learning!
With our cutting-edge platform and powerful tools, you'll be well on your way to achieving that elusive grade 9.
Don't wait another moment to sign up and join the ranks of the top-performing students. With our expertly designed courses, interactive learning materials, and personalized support, you'll have everything you need to succeed.
So, what are you waiting for? Take control of your academic future and unlock your full potential with CSUK:ReviseCS!